Viral marketing may extend your reach to customers. However, not every viewer will share your message, and it may increase their expectations.
The moment rick-roll became viral all those years ago, it started a pursuit of a different form of marketing. A type of marketing that appeals to everyone catches attention instantly and infects the attention of internet goers. It then becomes sharable, going from one place to the next, and like a virus, it spreads from everyone in your neighborhood to the people on the other corner of the globe.
And the numbers look good too. The moment you look at the million views behind that one YouTube video that you did years ago, your heart is elated. Think about how that "hide your kids, how your wife" person must have felt. More recently, imagine the attention that the "kid that yodels" captured as he yodled in Walmart.
You can't, can you? I bet the only time you got these references after all these years is when you read it right here. Did you feel the same way you did when you first came across those videos nearly a decade ago? No.
Do you know why? It wasn't meant for you, or for anyone for that matter. Those videos are one speck of quirky goodness, a disturbance in the linearity of advertisements that we see every day that only captures our attention for the moment. But what happened to them after?
Can You Make It Go Viral? – One Question That Is Asked Too Often
Not a day goes by for a marketer or social media strategist when they don't hear the question, "can you make it go viral?". Asked by those who got too enamored after looking at a great viral video or most they came across.
Can a post go viral? Absolutely. However, it can't happen without quality content creation and a long-term strategy that works.
Even then, content going viral is nothing more than a game of luck.
That said, there are strategic ways for a brand to go viral. However, a person has a higher chance of going viral than any organization. Take the example of the "Yodeling-kid". It was not Walmart, the place where he was singing, that went viral; it was the kid.
Also, before we dive into the pitfalls and positives of viral marketing, let us explore why some posts go viral – there is only one reason: emotions.
Four emotions spread a post like a virus, and people can't stop talking about it.
Amazement
When a post gives people a feeling of amazement, where they feel gleeful when they see it, the content has a higher chance of going viral. The feeling of "awe" triggers content to spread across the internet like wildfire.
Surprise
Experts consider surprising a high arousal emotion, which can be both positive and negative. If some people are taken aback or "cringe" at a piece of content, it can go viral.
Anger
One of the most common ways people try to attain viral status on social media is through sensational content that angers the audience. All the politically charged posts that enforce volatility have a way of infecting an audience's attention.
Anxiety
Anxiety is a powerful response. It creates doubt and stays with the audience for a long time. Many news channels and some less-than-legitimate sources of WhatsApp leverage anxiety to go viral. Such posts became more prevalent during the pandemic, which caused many to question their sanity.
As you can see, making a post viral hinges a lot on propagating negative emotions, which is one of the reasons why many social media strategists are apprehensive about marketing or implementing it.
However, before we dive into the negativity surrounding viral marketing, we emphasize that viral marketing is a well-known strategy with many benefits.
What Are the Benefits of Viral Marketing?
For Many, It Is a New Way To Market the Business
Viral marketing can give you a way to reach out to your customers who otherwise won't pay attention to your brand's message. That allows you to target new demographics and increase the total number of prospects available to you. If you play the cards right, it can potentially lead to higher revenues for you.
It Can Save You a Lot of Money
Focusing on viral marketing allows you to take your hands off the wheel of your marketing strategy. As customers decide to take the reins of the marketing themselves by sharing your message, you no longer need to take a targeted approach. Your content spreads like wildfire, and the amount of money you would need to spend on targeting marketing is saved.
It Allows You To Be Creative
A streamlined, simple message has less chance of going viral because it is not creative. Take a sensational mindset into creating content, and you will see your content rapidly spreading across the web.
You Get Attention From Your Audience
As I mentioned before, a streamlined and simple message has less chance of going viral, which is why customers always go through long encounters with white noise that they are not interested in before picking something. By taking a viral route, you might not give not give customers what they need, but they will definitely notice and respond to you.
No Need To Focus on Product Quality
Another big reason why many prefer viral marketing is because it generally takes the pressure away from the products and services. As communication becomes the very factor of your customer-outreach program, the talk about the product's quality does not exist.
It Can Make You Viral Offline
If you have gotten viral online, you can use the key messages of the viral post and paste them on the billboards to paste online. It can attract new prospects to your brand through a one-on-one approach.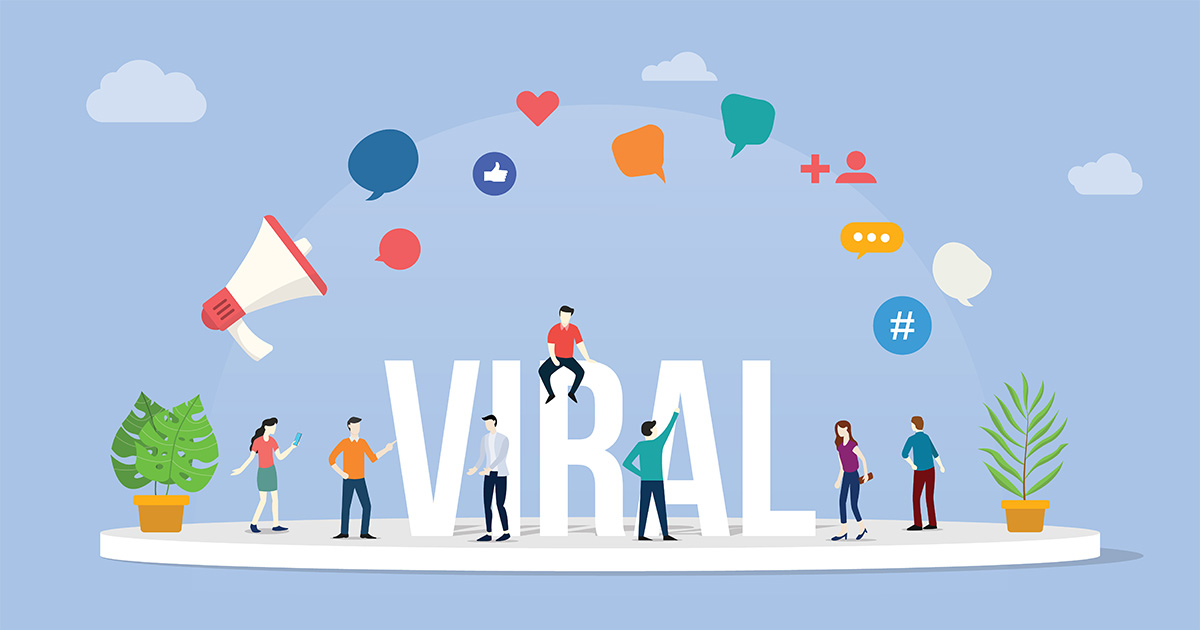 What are the Pitfalls of Viral Marketing?
Every positive aspect we stated about viral marketing has a negative hook attached. These take a negative turn pretty quickly and, instead of giving your business a parabolic increase, will punch your value down in front of the customer's eyes.
You Don't Have Control Over the Marketing Narrative
While it is an interesting prospect to let your audience take the marketing wheel by sharing your posts with their friends and families, remember every time a sensational post is shared, new contexts are added to them, and not always positive ones. If your viral marketing succeeded but the brand message it propagated was wrong, your company will be impacted negatively.
Not Every Viewer Will Share Your Message
When a post goes viral – that is a chance. But when you implement viral marketing, you focus on the demographic. However, since viral marketing is "uncontrolled", it has a higher chance of people outside your demographic – who might not be so inclined to share your message.
Viral Marketing Increases Expectations to an Unrealistic Level
One of the greatest pitfalls of marketing can be summed up in one word – expectations. Once you have gone viral, you expect every post to behave the same way. That puts unbridled pressure on your social media or content marketing strategist who wants to retain the sole of the message. Furthermore, since it is the post that goes viral, not necessarily your brand, in your desire to stay viral forever, adding elements of that post to future ones becomes a norm – even when it is not relatable.
Such a novice approach destroys the essence of marketing and pushes your brand image away from a viral direction and into mediocrity.
Viral Marketing Makes You Complacent About the Product
You might have heard about the "pink sauce" going viral on Tiktok. Before it became the world's obsession back in July, this dragon fruit-spiked dipping sauce was something no one knew about. It was only later that people realized that not only did the pink sauce not stay "pink" for long, but its taste also took a turn for the worse. The nutritional information was also wrong on the package,, as Veronica Shaw puts it, "angel numbers" were used to manipulate what was actually in them.
Needless to say, the sauce didn't pick up much steam after that.
This example shows one of the biggest pitfalls of viral marketing – it makes you oblivious about the quality of the product. And in pursuit of mere "five minutes of fame", you can easily destroy your brand.
Viral Marketing is a Game of Chance
One of the humbling facts to know about viral marketing is that it is a game of chance. It is "by chance" that content goes viral and hits the right spot. And if your content has gone viral, and not for the right reasons, the damage it will do to your brand's reputation will take years of salvage.
Benefits of Strategic Marketing
The pitfalls of viral marketing can be avoided by embracing strategic marketing. Unlike viral marketing, which is akin to shooting a pump-action shotgun with your eyes closed, strategic marketing involves knowing your business process and weaving it into your marketing plan.
It considers everything, from your business's objective to the perception of your customers.
It takes a stepwise approach that involves three phases:
The Planning phase
It is a phase that involves strategic marketing planning that consists of accessing the strengths and weaknesses of the market, establishing a marketing program, creating marketing goals, and focusing on the product.
It is here that marketers postulate how far their brand can go (or can't go) before starting. Only after knowing the crucial details about where the marketing efforts might lead the marketer the business move to the next phase.
The Implementation Phase
Implementation is the meat of strategic marketing. It involves assigning team members, setting deadlines, and completing all the marketing tasks. Those include content creation/curation and posting.
Once the content is posted, an analysis of the performance of that content is also done in the implementation phase. If some issues arise, other tasks of this phase involve refining the message to reach the right audience.
The Evolution Phase
The last phase of marketing starts after the end of the implementation phase – which takes months. Here, the markets analyze the results of their marketing efforts. They assess if the message reaches out to the people as they originally envisioned.
What are the Benefits of Strategic Marketing?
With strategic marketing, you get:
Competitive Advantage
The planning phase of strategic marketing gives you a layout of what your competitors are doing. And when you have that information, you can outdo them. It also tells you how your brand is unique (or lacks it) and how to leverage your situation properly to get the most out of it.
It Makes You More Efficient
Strategic marketing focuses on realistic goals that your marketing strategists admire. It will allow them to do what they do best – focusing on the audience, identifying the budget, and assessing and creating the brand message that aligns with your company's philosophy.
Those are the only aspects you need to focus on during the initial marketing phase, and your marketers will love you for it.
Let You Control the Flow of Your Message
Implement the strategic marketing correctly, and your brand message will follow the route you originally envisioned. It will allow you to control the flow of your marketing narrative. Any negative response you receive can be dealt with properly without hindrance, and all the positive comments can be funneled to the salesperson for conversion. There is no wild marketing here.
It Will Help You Create Strategic Marketing Communication
You need strategic marketing communication to attract an audience positively, and strategic marketing lets you do that. It will help you generate consistent sales and help you move your business forward correctly.
When it comes to the cons of strategic marketing, there is only one. It takes time. However, the consistent sales you generate will help you far outweigh the initial marketing costs.
Consistent Growth Trumps Viral Marketing Every time
While there are not all downsides when it comes to viral marketing, it only mounts to "15 minutes of fame". It also puts insurmountable pressure on the content writer or social media strategist to develop the next big piece of content that boots the spot.
Even if you attain viral status, people drop off – fast. You won't necessarily be able to convert all audience members; in the end, the time and effort you put into viral marketing won't be worth it.
Structuring the marketing strategy, however, offers a much better option. It pushes you linearly towards your goals, lets you control your marketing narrative, and provides you with consistent sales – which is, in the end, the main target of marketing your business.