We are rapidly approaching the age of the metaverse – networked, persistent virtual realities in which we shall live digital lives alongside our physical ones. We will increasingly use these areas to work, play, socialize, and learn — anything we can do in the physical world will have a "digital twin" in the metaverse with which we can connect without leaving our homes. This includes investing and making money, and, as in the real world, one of the most popular methods to do so will be through property investment.
The metaverse is still in its early stages. Investing in it implies significant risks. However, investing might be with such a great possibility for significant rewards, the threats may be worth it. However, as with any other investment or company activity, you must conduct thorough research before deciding to accept challenges.
What is Metaverse Digital Real Estate?
Metaverse real estate refers to land parcels in virtual worlds. In the most basic sense, they are pixels. They are, however, more than just digital images. They are programmable areas in virtual and augmented reality platforms where individuals can mingle, play games, sell NFTs, attend meetings, attend virtual concerts, and engage in a variety of other online activities. Digital real estate is predicted to flourish and expand in tandem with the rise of the metaverse. Virtual real estate sales occurred in the fourth quarter of 2021 after Facebook changed its name to META and signaled a strong interest in the metaverse.
Why Buy Land in Metaverse?
Metaverse real estate allows consumers to get and connect with other people online. Individuals can play games and interact on their digitized property. Creators can monetize their property's content by charging for access or trading their NFT. Brands can leverage their virtual properties to promote services, introduce virtual products, and deliver unique customer experiences. These digitized pieces of land present a profitable possibility for estate investors. Metaverse properties, like real-world properties, can be developed, flipped, or leased. Indeed, there are numerous applications for this metaverse investment.
Best Strategies To Choose What to Purchase
Purchasing virtual land, like purchasing cryptocurrencies and NFTs, is a high-risk investment. For starters, this real estate market is mainly unregulated, which means that if something goes wrong – say, a seller turns out to be a scam artist and disappears with your money – the avenues for pursuing restitution are underdeveloped, and you may find yourself on your own. Even if you are not defrauded, there are technical considerations that can add an extra layer of risk – because transactions are conducted in cryptocurrency and NFTs, you must be confident that you can securely store these and will not forget your password or whatever means you are using to authenticate your ownership.
How to Make Virtual Real Estate Investments
Purchasing a metaverse property operates similarly to purchasing an NFT. Your ownership deed is a one-of-a-kind bit of code on a blockchain. This code validates your ownership or rights to that piece of online real estate. So, to begin your virtual real estate portfolio, you'll need your crypto wallet. Some services employ specific cryptocurrencies for their transactions, therefore you should look into them before registering for a new wallet. Then, go to the virtual metaverse platform and register for an account. You must link your digital wallet to the site to purchase property and other assets. Select and purchase a piece of land. Metaverse land, like real-world real estate, can be purchased through brokers and property managers. However, unlike in the real world, metaverse brokers do not require licenses and are not subject to any restrictions. So make sure you only do business with reputable companies.
Location is important in picking a virtual territory in the metaverse, just as it is in real life. Parcels in The Sandbox and Decentraland are becoming increasingly valuable as major corporations like as Atari, Samsung, Miller Lite, and Adidas stake their claims in these online worlds. Many early purchasers of neighboring or nearby lots have profited handsomely from their purchases. If you intend to invest in virtual real estate, search for places with development potential. Places, where people may congregate, will be more valued than those in unremarkable places. Consider land sites adjacent but not within developed areas. You can buy these properties for a modest price, develop on them, and then wait for prices to rise.
Marketing and Buying Platforms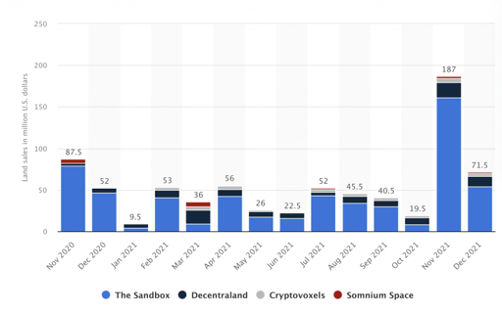 The Big Four possess the vast majority of virtual real estate. Decentraland, Sandbox, Somnium Space, and Cryptovoxels are among the prominent actors in the metaverse economy. These platforms own a total of 268,645 plots, many of which are among the most expensive on the market.
Sandbox
Sandbox presently controls around 62 percent of the virtual property market. LAND here currently costs an average of $11,000, with premium lots selling for between $20,000 and $30,000. You can buy or rent virtual areas for a variety of purposes. There are various sizes of family residences, commercial facilities, art galleries, and hangout locations. Everything on this UGC-voxel platform is created by the community for the community. Sandbox producers and players purchase, sell, and trade voxel creations. They purchase LAND and construct experiences on it. They can also monetize these experiences with NFTs and SAND, Sandbox's utility coin.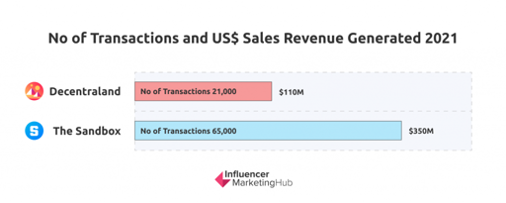 Decentraland
Decentraland is a 3D virtual reality platform based on the Ethereum blockchain. LAND NFTs with particular grid coordinates and a reference to parcel data are used to convey ownership of land parcels. Users must have MANA tokens to acquire LAND, which may also be used to purchase in-world things. Decentraland's virtual world is divided into districts, each with its own set of content. These areas allow users to interact, browse, and share content. These districts provide creators and brands with more focused traffic, allowing them to bring their content to specific consumers.
Somnium Space
Somnium Space is a blockchain augmented reality metaverse branding created solely by its users. The 3D virtual world provides users with rich VR experiences that can be accessed on both desktop computers and mobile devices. The virtual space is separated into three sizes: small, medium, and extra-large chunks. You can develop your area on the waterfront or roadside property. You may monetize your digital assets by importing objects like avatars. In Somnium, land parcels and in-game assets are tokenized. On the Ethereum and Solana blockchains, ownership is authenticated and documented. Somnium Space parcels have a median price of $11,500. In February 2022, the most expensive lot sold for $43,100. Those with low money who want to buy parcels can still do so with smaller parcels priced between $2,000 and $4,000.
Cryptovoxels
If you've played Minecraft, you'll feel right at home at Cryptovoxels. In this virtual environment, you purchase land and construct structures out of monochrome blocks. Colors and other components can be added to your designs using native $COLR tokens. The site also includes editing, avatar creation, and messaging features. Creators and brands can buy digitized land to establish galleries and stores to promote their carefully chosen collections, products, or services. A lot of land at Cryptovoxels presently sells for $5,000 on standard, but prices can go up to $10,000 depending on the size and location of the property. Like other virtual worlds on the Ethereum blockchain, land ownership is forever recorded on the blockchain.
Aside from the Big Four, more than a dozen platforms currently offer metaverse land sales. Axie Infinity, Star Atlas, Bit Country, and Aavegotchi are some other options.
Risks or Rewards
There are two primary reasons why you might wish to dive into virtual real estate investing, much like in the real world. The first option is usually the safest, you want to utilize it for something specific, such as building a house to live in or a business location. When we say "dwelling" in the metaverse, we truly mean having a location to call home, where you can show off your belongings and maybe even invite friends over to hang out. It's similar to having a personal website in the early days of the internet before everyone switched to social networking. Individuals will utilize metaverse "homes" to express their personalities online or to keep their collections of unique digital collectibles. This is the less hazardous rationale for wanting to buy metaverse land – because you're more likely to acquire what you desire.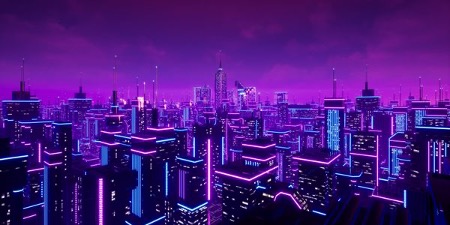 The second motivation is an investment, and this is where things may get a little dicey because, as with any investment, there is no assurance that its value will rise. However, we appear to be in the midst of a gold rush in terms of virtual real estate, with average values growing by a factor of ten in the last year. Many people are purchasing digital land now because they anticipate it will become much more valuable in the future as more people get interested. Some are even buying to let, with a thriving rental market on the horizon.
Although the metaverse is likely to grow rapidly in the coming years, it is still a young business that is far from solid. For example, if a metaverse platform goes offline permanently, all of your land and assets on that platform are rendered ineffective. Then there's the matter of valuation. The challenge of how to allocate value to a territory whose scarcity is artificial and whose future value cannot be determined is constantly present. Metaverse land is vulnerable to fluctuating situations because its value is dependent on highly volatile cryptocurrency.
Summary
Investing in metaverse properties is highly speculative rather than prospective, and is fraught with dangers. To suggest the hazards are significant is an understatement. You can lose all of your investments in the virtual world in the blink of an eye. However, the rapid transition to full digitalization in nearly all industries has the potential to yield significant profits on metaverse real estate investments. Learn everything you can about the metaverse before making any investing decisions. Recognize all of the dangers and obstacles and measure them against the potential advantages. You should make your decision only after properly researching all of the benefits and disadvantages.