Your brand can benefit from a strong SEO campaign in a variety of ways. Learn how to put SEO optimization for search to work for you and incorporate it into your marketing strategy.
You're an accomplished marketer and understand the value of keeping up with the times, embracing new technology, and seizing new opportunities. As a result, you recognize SEO is on the rise, and it is empowering businesses of all sizes to attract new clients via inbound marketing. SEO should be an important component of your digital marketing plan if you're expanding and targeting new markets, or even if you're just thinking about it. However, you may be unsure about how to enter this form. Are the time, effort, and money worth it? Yes, categorically. Mach 1 Design has all you need to know about why you need SEO, how to invest in it, and everything else you'll need to persuade skeptics within your company to embrace the new way of gaining leads and increasing sales.
Is Search Engine Optimization Value for Money?
A website is required for every company in the twenty-first century. You also need SEO to help clients find you because you require a website. SEO is the most efficient and cost-effective method of understanding and communicating with customers. SEO helps you create trust and offers you a clear picture of what your clients' looking for. It is the primary source of the traffic to most websites. Better traffic from more qualified leads, higher engagement, and more conversions are all signs of good SEO.
Your Marketing Plan Is Boosted
Your brand cannot exist in a vacuum. Because the internet, in general, and mobile devices, in particular, remain the major instruments for customer research, your online presence is essential. SEO complements your other marketing efforts, boosting the effectiveness of your efforts. Assume you're a roofing company sending out a postcard mailer to new homeowners in your neighborhood. One of your customers wants and installation quote, but he misplaced your collateral. He also has trouble recalling your company's name. He looks up "window installation in my region" on the internet. Your roofing company appears at the top of the search engine page results (SERPs) as a result of your SEO investment, and he calls you rather than one of your competitors. Both your flyer and your SEO expenditure have performed better than they would have on their own in this example.
Expanding Field
The global search engine services market rose at a compound annual growth rate of 16.7% from 2015 to 2020, according to a study by The Business Research Company, reaching roughly $46.7 billion in value. The market for SEO services is estimated to reach $217.8 billion by 2030, indicating a continued high growth trend. It's also no surprise that Google is still the most well-known name in this industry.
Google receives around 89 billion monthly visits, according to Similarweb. With 92 percent of all queries, it has by far the most market share. You're missing out on a lot of business if your website doesn't rank well in Google SERPs. Effective SEO allows you to grow exponentially while also allowing you to stand out from the crowd.
Positive Experiences
Consumers will always view your campaigns with some degree of mistrust, no matter how great you are at marketing, and we're sure you're amazing. This is because they understand that your goal is to portray your company in the best light possible. If McDonald's' tagline was "Eh, it's okay," not "I'm enjoying it," they wouldn't sell nearly as many burgers. Customers can sense when you're pouring sunlight, regardless of which slogan is more truthful — which is why reviews are so crucial. According to studies, up to 82 percent of people check internet reviews for local businesses, with 91 percent stating positive ratings make them more likely to utilize the company.
Role Reviews
Positive reviews are a significant indication to search engines about your site's credibility and authority, therefore the correlation between Google Reviews and SEO rankings has been well-established. Let's take a closer look at the basic components of an SEO strategy now that we've gone through the benefits of SEO.
Return On Investment
Every successful company has one thing in common: it maintains a positive balance sheet. Making wise financial decisions is a crucial part of it.
Not a Free Service
Even if you're willing to do everything yourself, you'll still devote a significant amount of time to completing the necessary SEO tasks. You may have used that time to work on other projects. However, it is common knowledge that SEO is well worth the investment.
You can measure the return on investment (ROI) of your SEO campaign using a variety of measures. You can use items like: to assess the success of your campaign.
• Organic search — the position of your page on Google and other search engines.
• Organic traffic — the non-paid search engine traffic that you receive.
• Business metrics, such as backlinks, impressions, and clickthrough rate, to name a few.
• Profitability of the business – sales conversions (but opportunities and/or quality leads may be valuable as well).
When compared to paid search, SEO has been shown by some agencies to generate 25% more leads.
Return on Investment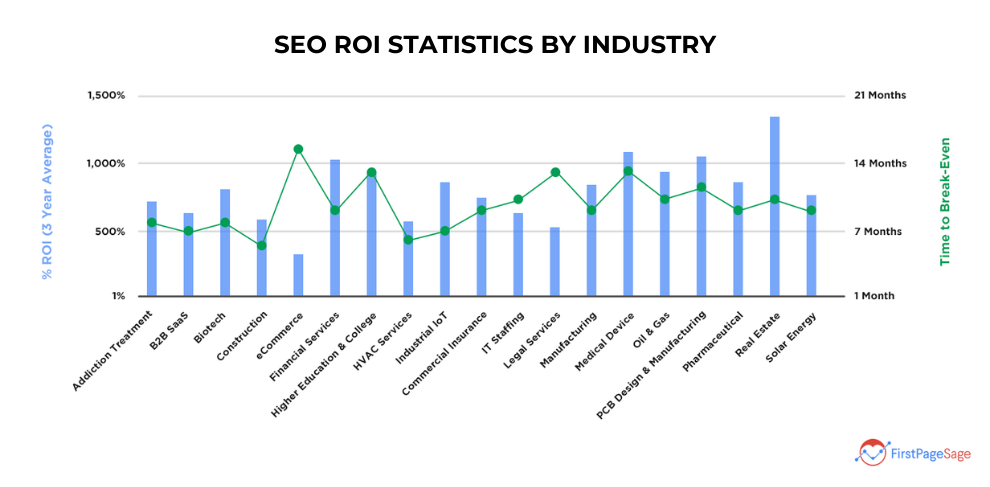 What kind of ROI should you expect from an SEO campaign? Using 12 years of proprietary data from SEO campaigns, we've broken down the answer to this question by industry, further segmenting it by return on advertising spend (ROAS), ROI, and time to break even.
The following ROI statistics represent the ROAS and ROI of SEO averaged over a three-year period. The SEO campaigns that generated this data were thought leadership-based, meaning they involved ongoing publishing of keyword-targeted, high-quality website pages, split ~70/30 between blog entries and landing pages. We calculate SEO ROAS using the following formula: Gross Return on SEO Campaign ÷ SEO Campaign Costs. Typically, the costs of an SEO campaign are what a company pays our agency (~$120,000 / year) plus a share of the salary of all the people interacting with our firm on the client-side. The final ROAS number is a ratio of how much gross revenue should be generated from every dollar spent on SEO. Likewise, we calculate SEO ROI using the following formula: Net Profit from SEO Campaign ÷ SEO Campaign Costs. We then multiply by 100 to get the percentage return you can expect to see from SEO.
We've also included a time to break-even statistic, which is the number of months it takes for your net revenue from an SEO campaign to exceed your spend on that campaign. When a marketing leader is setting expectations for the ROI their company will receive on an SEO campaign, they must consider the comprehensiveness and quality of the SEO campaign itself. Below are the three most common SEO services along with their ROAS, ROI, and time to break even.
A technical SEO campaign is one in which an SEO consultancy enacts technical fixes to your website, typically relating to speed, security, and mobile optimization; performs keyword research, and rewrites the title tags on your website using the results of their keyword research. A standard content marketing SEO campaign is one in which an SEO agency performs cursory keyword research, typically consisting of looking up keywords using an online tool, and produces ~4 blog articles per month of average quality relative to your competition.
A thought leadership SEO campaign is one in which an SEO agency performs thorough keyword research with an emphasis on target audience persona needs and pain points, transactional behavior, and search intent; and produces at least eight high-quality content pages per month with an aim toward getting categorized as a news website by Google.
SEO Service
Return on Advertising Spend (ROAS)
ROI
Time to
Break-Even
Technical SEO
(Technical fixes, keyword research, title tag rewrites)
1.35
117%
6 months
Standard Content Marketing
(Average quality keyword research & blog articles ~4x / month)
1.05
16%
15 months
Thought Leadership Marketing
(Transactional quality keyword research & blog articles ~8x / month)
8.90
748%
9 months
Timeframe to Invest
Positive ROI in an SEO campaign is achieved over a 6-12 month period, with peak results in the second or third year of the campaign. Here is what a typical B2B SEO campaign looks like in terms of gross revenue generated on an annual basis: When it comes to SEO, how much should you spend? Your company's need for SEO should be obvious at this point. This necessitates allocating a portion of your marketing budget to it. But, specifically, how much is it? You're not alone if you have no idea where to start answering this. There isn't a simple solution. There is a significant degree of variation depending on where you start and where you want to go. You get what you pay for in SEO. You'll probably get budget results if you try to follow the budget approach. Don't panic if you don't have a large SEO budget. Even if you only focus on a couple of the most critical aspects, you can still achieve good results:
Site architecture: Make sure your site is crawlable, meet webmaster requirements, and prioritizes user experience. Fresh, keyword-rich material that matches search queries and satisfies user intent should be added regularly. High-trust, high-authority backlinks: Natural backlinks (not link farms) from high-trust, high-authority sites can assist you to climb the rankings. In terms of dollars and cents, what does that imply? "It depends," is the quick (and admittedly vexing) response. SEO takes time, and you'll be disappointed if you expect results right away. To see benefits, set aside enough money for at least six months. And it will differ according to your requirements.
A local campaign conducted by a top-notch SEO provider could cost $500 or more per month. A worldwide campaign will demand a budget of five to ten times that if you're aiming for loftier aims. When it comes to SEO, how do you invest? Identifying your goals is the first step in investing in SEO. Do you want to increase the number of customers who come through your sales funnel? How can you make customers more aware? Do you want to appear in a certain number of searches each day? Decide on your plan after figuring out what you want to accomplish.
After you've decided on a strategy, you'll need to figure out the techniques you'll need to carry it out. Do you have trouble distinguishing between strategy and tactics? The most straightforward way to remember it is that tactics are on a small scale, and strategy is on a broad scale. The difference between strategy and tactics is that strategy determines why something is done in the first place. Do you need assistance putting together a complete SEO strategy? Don't worry, we've got you covered.
SEO Or Pay-Per-Click Ads, Which Services?
Because SEO has a higher average return on investment (ROI) than pay-per-click (PPC) advertising, you should use it, right? No. Both are beneficial, and you should ideally have a combination of paid and organic search efforts that are appropriate for your business and current assets. Each has advantages and disadvantages.
Organic SEO Has Its Benefits
Website traffic: SEO can help you boost the total number of visitors to your site as well as the number of clicks you receive.
Return on Investment: As previously said, SEO is more cost-effective than PPC, but neither is cheap or simple.
Branding and awareness: Organic search places your business in front of potential clients based on search queries, enhancing exposure around search phrases and increasing brand recognition.
Credibility: Getting a high ranking in the SERPs might help you gain credibility. Many users ignore the paid adverts and instead go straight to the organic results.
Longer-lasting results: While SEO takes a while to show results, it also takes a long time to lose its effectiveness. Long after a PPC campaign has ended, a well-optimized website can continue to rank well.
Stability: Similarly, whereas PPC ad placement can alter based on competitive bids, a site with solid SEO will maintain a relative rank even if you ignore it for a time.
PPC Has Its Benefits
More visitors, clicks, and conversions: As soon as you initiate a paid campaign, you should see an increase in traffic, clicks, and conversions.
Algorithm changes have no impact on positioning: Because PPC is vying for the top spots on a SERP, you won't have to rethink your content or methods every time Google adjusts its algorithm.
More control: Because you have control over your expenditures, you'll always know how much money you're making, making budgeting easier.
More precise targeting: Paid search advertisements allow you to target a specific audience based on a variety of characteristics such as demographics, geography, and time of day.
Visual adverts can be used: People are more inclined to click on photographs of the goods they're looking for. PPC allows you to accomplish this, but the organic search does not.
Business Investing in SEO
With an SEO strategy, what precisely are you investing your funds in? Architectonics and content, in a nutshell. If you know HTML and CSS, you should check your site to see if it's built properly. This entails addressing crawlability and structural issues, as well as ensuring that the site provides positive user experiences, loads quickly, and is free of 404 links. If you don't know much about coding, you should be able to hire someone to do it for you for a reasonable price. The content is a little less complicated this time. You want to be certain that your website contains the information that your target audience is looking for. Content that is both effective and relevant will increase traffic and boost your total return on investment. We've included a guide on creating an SEO content strategy as well as tips on how to build evergreen content that will drive traffic for months, if not years.
What Should Your SEO Budget Look Like?
It should be obvious that you require SEO at this point. It's now only a matter of determining where your money should go. There is no one-size-fits-all approach in SEO, as there is in practically everything else. What works for your company is determined by a variety of factors, including your target market, goals, and marketing budget. If we could make one recommendation, it would be to hire a solid SEO team. There are a plethora of SEO experts available who specialize in technical SEO, keyword research, and content production, among other things. Are you short on cash and can't afford to hire someone? Don't worry; with a little research and effort, you can master all of these skills. Simply bear in mind the characteristics that all SEO pros have in common and work on honing those abilities.
Conclusion
Don't kid yourself: Search engine optimization is a huge undertaking. But it isn't too much. Simply by reading this post, you have taken a significant first step. There are many elements to consider, but with the correct attitude and a well-thought-out strategy, you may achieve your goals regardless of your budget. Now is the time to get out there and concentrate on improving your position.