Search Engine Optimization (SEO) is crucial to the success of your website. On-page SEO is crucial for your website, and it entails a large number of optimization tactics. As a result, adopting a rigorous checklist can help you ensure that your SEO on-page efforts and development are as effective as possible. We'll take a closer look at page SEO services and what it comprises in this content. After that, we'll walk you through a list and infographic of critical tasks for improving your content and provide you with specific advice. Let's get this started!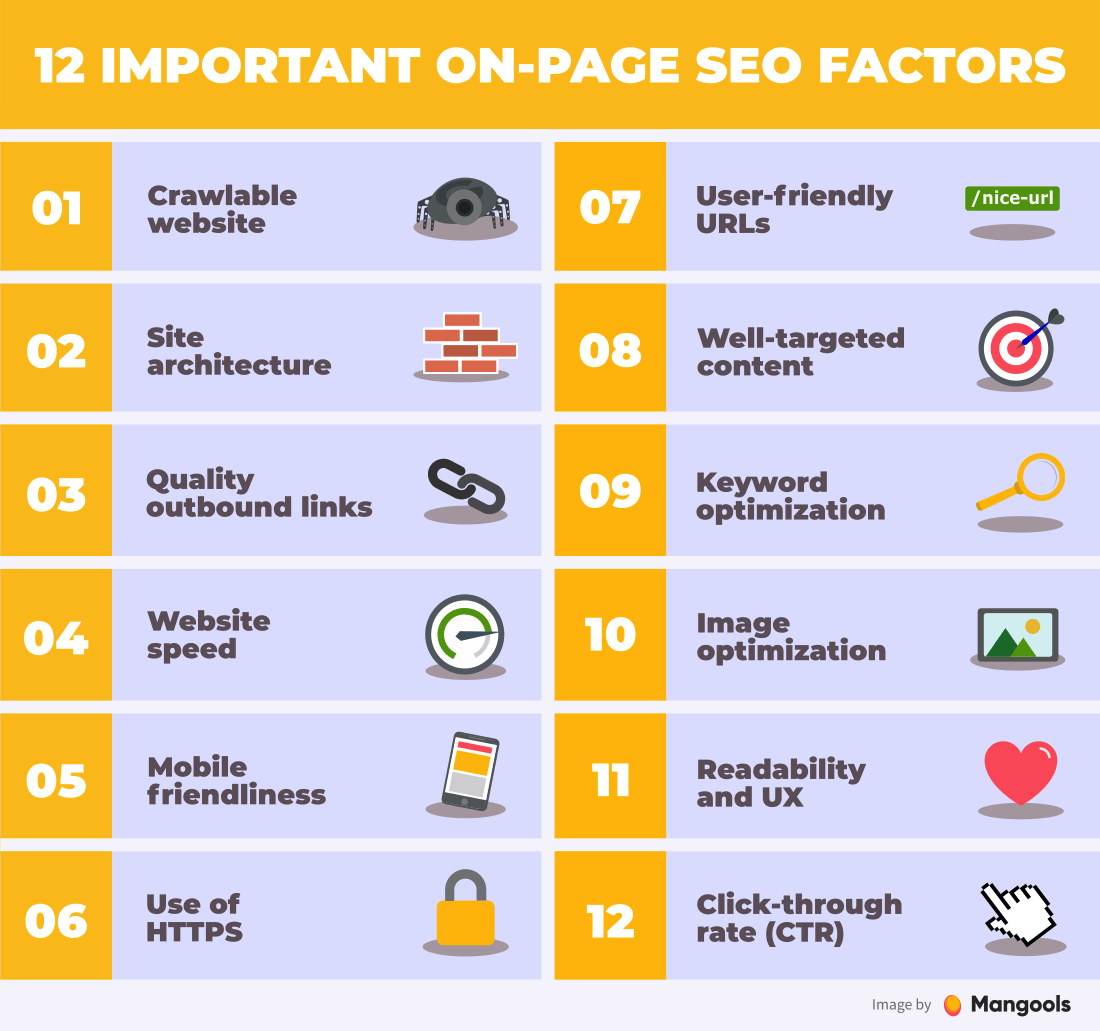 What Is On-Page SEO and How Does It Work?
On-page SEO entails improving individual posts and pages to improve your SERP ranks (search engine results pages). Targeting precise keywords and generating compelling content with the user's search intent in mind are standard steps in this approach. On-page SEO, on the other hand, entails a slew of other activities. You'll need to make sure you're utilizing the necessary title and header tags, as well as referring to relevant pages inside your posts, for example.
It's vital to distinguish between on-page and technical SEO. The latter is concerned with improving your site's overall performance, such as page load speeds, responsiveness, and User Experience (UX). SEO on-page focuses on particular parts of your articles and pages, whereas technical SEO affects the entire website. They are, nevertheless, both crucial to the success of your website.
The most significant aspect of on-page SEO is that you have control over and can adjust the things that influence it. On-page SEO services can assist you in managing these elements to improve your site's performance and development and rank better in search results. This will elevate your site above the competition, causing leads to prefer your company over theirs.
Why are SEO Optimization Services Important?
Online visibility is one of the most important factors to success in any business today. Good on-page SEO services rank your visibility online so that potential customers can see your website, and this leads to more online traffic and an increase in potential clients. Whether you are a small business or a global conglomerate, good SEO will lead to better opportunities and practices. Starting good page optimization services make your website more visible online, so people find you. With good SEO, the more people see and read your website, the more traffic – and customers – it generates.
The importance of SEO optimization should not be dismissed. Best SEO content services will make your product or service easier to find online. More people will see it and therefore want to purchase from you. The chance to increase your sales increases as well. When you have to make a living from your website, it is vital that others can find you. Search engine optimization helps your business find those who are looking for what you have to offer because search engines direct these people to your site.
SEO works on the principle that more people will search for an item if more people know it exists. Optimize and process your website, and you'll be put at the top of search results for thousands of relevant searches. And since everyone knows that page one is the place to be, there's no better place to start than with our optimized services. A page SEO practice is a vital part of any online business but is often overlooked by companies hoping to seize new markets. Investing in search engine optimization today will provide significant benefits to your company tomorrow.
An On-Page SEO Checklist
You'll need to make sure you address every component of on-page SEO services every time you publish or update your content. It's natural to feel overwhelmed by the sheer quantity of responsibilities at hand. Fortunately, we've compiled a comprehensive checklist to assist you in mastering your SEO on-page. Before you publish a post or a page, there are four things you should do. For each article and page you generate, we'll start with an on-site SEO optimization services checklist. Before you push Publish, there are four things you must do.
1. Search competitors and decide on the main keyword.
As you may be aware, keyword research is critical to improving your search engine rankings. As a result, the first step in on-page SEO should be to identify the right phrase and page SEO keyword. Fortunately, there are several keyword research tools available. Google's Keyword Planner, for example, provides useful information on your target keywords: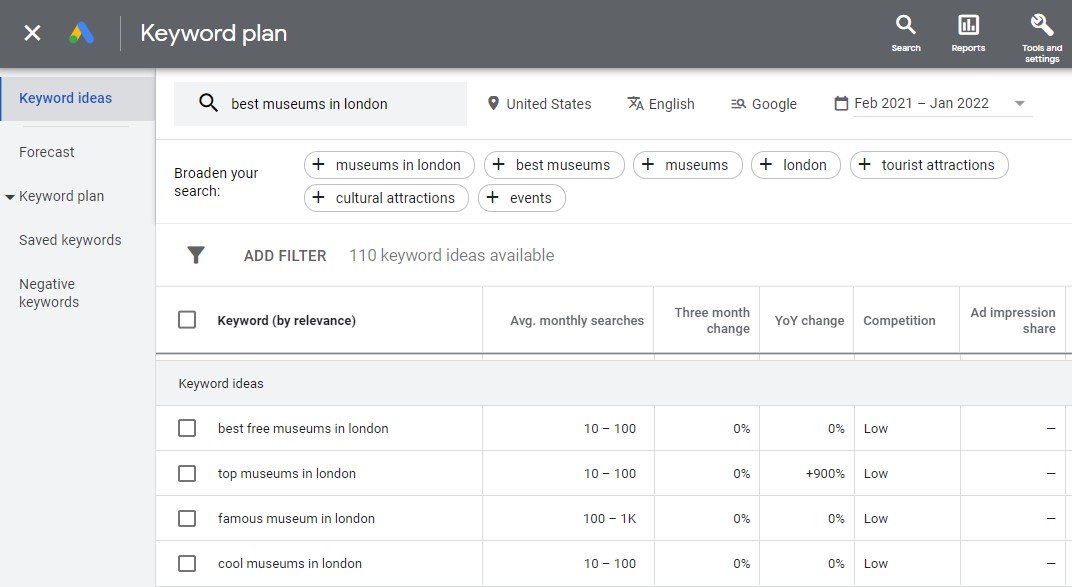 When choosing a primary keyword for a post or page, there are a few aspects to keep in mind:
• Relevance: The term you choose should be related to the topic you intend to write about.
• Search volume: The topic should generate enough interest to send significant visitors to your website.
• Competition: If the competition for a term is too great, you may find it difficult to rank on the first page of Google. Keep in mind, though, that the Keyword Planner Competition label pertains to commercial competition rather than organic search.
You should also make sure you haven't used that keyword on your website before. You could also want to come up with a few secondary keywords for your post.
2. Throughout Your Post, Use the Target Marketing Keywords
Once you've decided on your major keyword, make sure you use it frequently throughout your article. This procedure includes using the phrase throughout the title, headings, subheadings, and body of your content. Your target keyword should also appear in the following places:
• The SEO title: This should be brief enough to display fully in search results while also being engaging enough to pique the user's interest.
• The permalink: Keep your URLs short and simple, with no unnecessary letters or numbers.
• The meta description: It should be a succinct yet persuasive explanation of your post that will help people and search engines understand what it's about.
SEO is based on keywords. If you want your sites to appear in the right search results, you must select the appropriate keywords for your campaign. Where you appear in search results is determined by your keywords. Conduct keyword research to discover the best keywords. It will assist you in determining the best keywords for your campaign. You can see your selections and pick which keywords will be most effective for your company. Long-tail keywords are the greatest choice for your company. These are keywords of three or more words. They are precise, thus by using them, you will attract leads who are looking for your unique keyword.
These keywords are more beneficial to your campaign because they generate more valuable leads. Short-tail keywords, which comprise only one or two words, have a high level of competitiveness and pose ranking issues. Long-tail keywords will assist your company in reaching the greatest leads possible. Your target keywords should have a high search volume, which means that a significant number of people are searching for them. Choose keywords with a high search volume to avoid wasting money on terms that do not generate visitors.
However, you should avoid overusing your term, as this is typically frowned upon by search engines. Thankfully, Yoast SEO can assist you in incorporating the appropriate quantity of keywords into your content. Yoast not only measures your keyword density but also suggests improvements to your on-site SEO. It's also crucial to use your keywords naturally throughout your article. Remember that you're writing for people, not simply search engines, when you're producing blog entries.
Related: Blog SEO: How to Search Engine Optimize Your Blog Content
3. Produce High-Value Content
Visitor visits your page because they feel you have the information they require. Google understands that consumers want to find useful information, therefore it focuses on the content of your page. Your content must correspond to the user's search intent. We advocate keeping your audience in mind when building your on-site SEO. While keywords might help your content rank higher in the SERPs, they must also be relevant and valuable to your viewers. Before you begin writing your piece, you might want to consider the following:
• How will it respond to the question (or questions) posed?
• What problems will it solve?
• In what way will it benefit the reader?
Then, while you're writing your content, make sure it's related to the search intent. If your viewers are looking for ways to save money, for example, your piece should provide a list of suggestions. Similarly, if the search keyword is "what is on-page SEO?" you should write an educational tutorial on the subject.
Here are some more pointers on how to write your posts:
• Use the proper heading tags for main sections and subsections, such as H2 for main sections and H3–H6 for subsections.
• Double-check that any information you enter is correct.
• When feasible, link to external sources, especially when mentioning studies and figures.
The importance of content on your site's SEO rating cannot be overstated. It attracts and drives high-quality leads to your website. Publishing content will help your website rank higher in search results. Your material must be useful to your target audience. You should concentrate on providing them with the information they require, answering their queries, or resolving an issue. Content that assists and informs your target audience will yield the finest campaign outcomes.
Quality content will keep leads on your site for a longer period. They'll be interested in your company and will discover more about you. It's a great opportunity to capture leads you may not reach otherwise. You should also consider the readability of the article. With its Readability score, Yoast can be a useful tool once more. Your keyword must match the content on your site when you develop pages for it. It is an important aspect of on-site SEO and will have an impact on how your site ranks.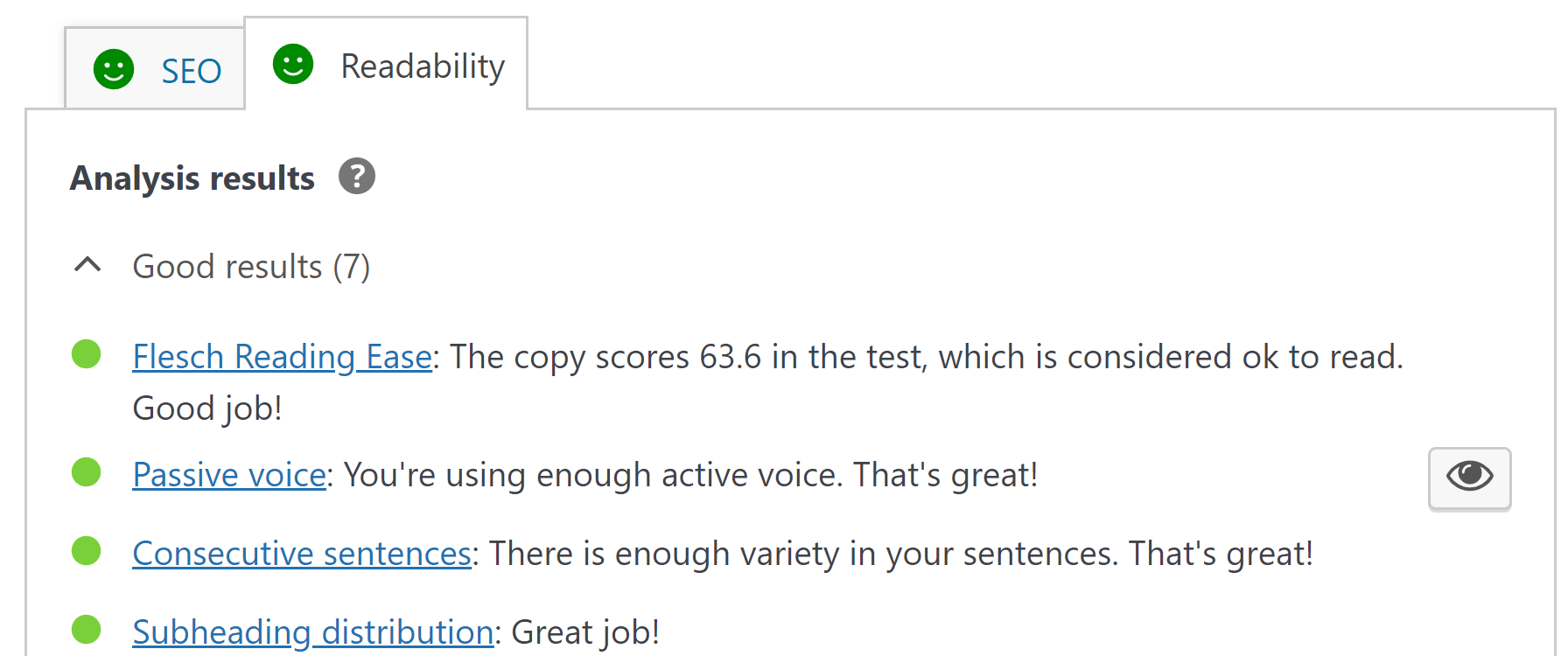 The plugin will make suggestions to help you make your material more digestible. It will tell you if your sections are too long, for example. To make the text easier to read, Yoast recommends shortening your words and paragraphs.
4. Improve the quality of your images
Visual components are essential for keeping leads on your site. Users do not like to read long passages of text. They require a break from all of the information, and visual components provide that break. To engage your audience, you can employ a variety of graphic components. Photos, movies, graphs, and infographics are examples. These are all excellent ways to pique your audience's curiosity and distract them from the material on your website.
Visual components are critical for lowering the bounce rate. When visitors arrive at your site and simply see text, they will become overwhelmed and depart. This is known as bouncing. Including images in your postings can improve the engagement and digestibility of your material. Graphics might also help you rank higher in the SERPs. You may optimize your photos for SEO in two ways:
• Give your files descriptive names that include the desired term.
• Use alt text to help search engines understand what your images are about.
Additionally, alt text improves the accessibility of your website. It allows visually impaired users to hear information about the image spoken aloud through screen readers. As a result, your audience will have a better UX. A high bounce rate is detrimental to your SEO. Google will consider your page to be unhelpful to your viewers and will rank it lower for that term. Visual features will help keep your readers from leaving your page right away.
Related: Image to Text Google Only a Factor in Images Search, According To Google
It also lengthens the time they spend on your website. When you include graphics, your leads will spend more time looking at them. A lengthier page indicates to Google that your page is intriguing and engaging to your readers, so it will rank higher. Visuals are one on-site SEO feature that you may utilize to boost the ranking of your website. It's an excellent approach to keep your readers interested and engaged on your page.
Three Things to Consider After Publishing a Post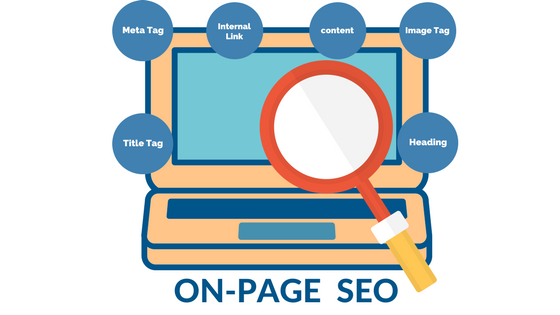 On-page SEO is a never-ending process. There are other things you can do after you've published a post to help it rank higher. Let's have a look at our published content on-page SEO checklist:
1. Make use of Schema Markup
Schema markup is a collection of information that helps search engines better comprehend your content. The language of search engines is schema markup, often known as structured data, which employs a distinct semantic vocabulary. It is code that is utilized to provide more clear information to search engines for them to interpret your content. It makes use of post tags to deliver specific information. With schema markup, Google can extract additional information from your content and display rich snippets in its SERPs.
Schema markup is code (also known as a semantic vocabulary or microdata) that you can add to your website's HTML. This microdata assists search engines in better understanding your material, allowing them to provide more detailed and useful results to searchers. Rich snippets based on recipes, for example, can include photographs, ratings, the number of reviews, and cooking times: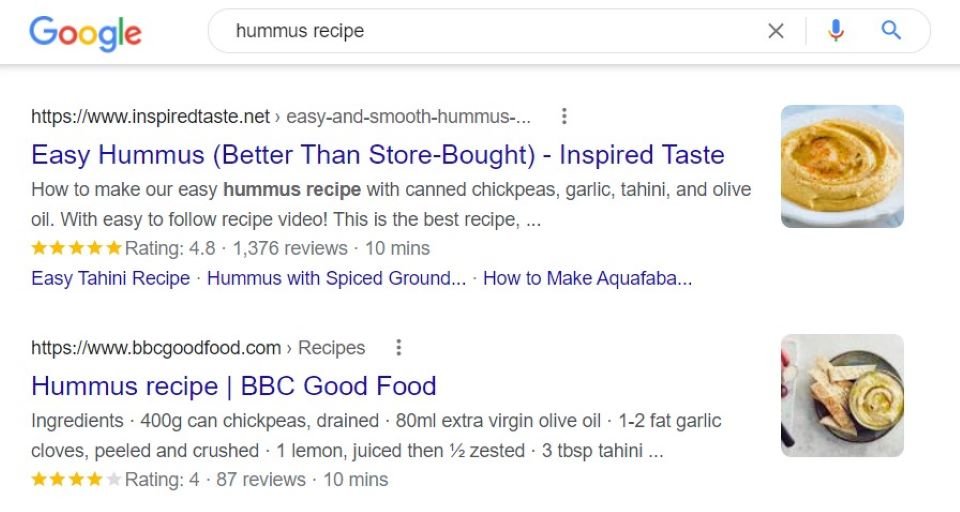 Rich snippets show more information about a page and have a greater click-through rate than standard results. These snippets are available for a variety of content kinds, including how-to tutorials, product pages, recipes, and FAQ sections. To add schema markup to your posts, use Google's Structured Data Markup Helper: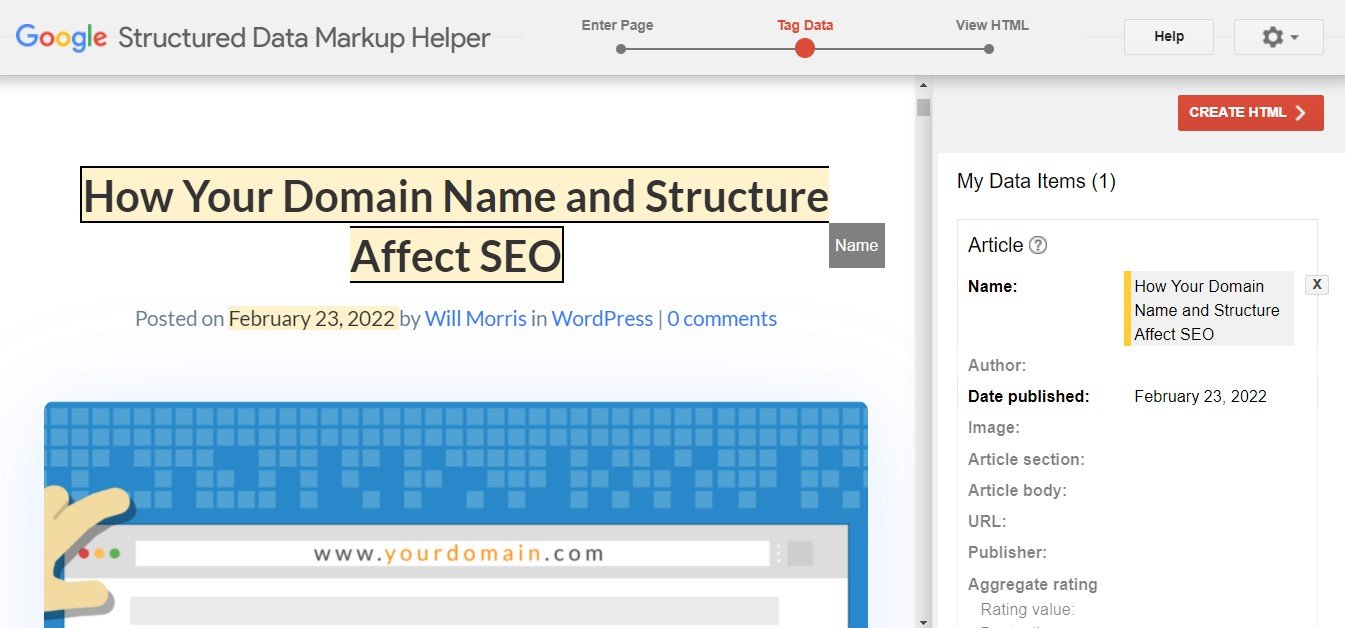 To get started, enter the URL of your page and choose a data type. You might add schema markup to an article or a book review, for example. After that, you may choose individual elements from your page and assign a tag to each of them: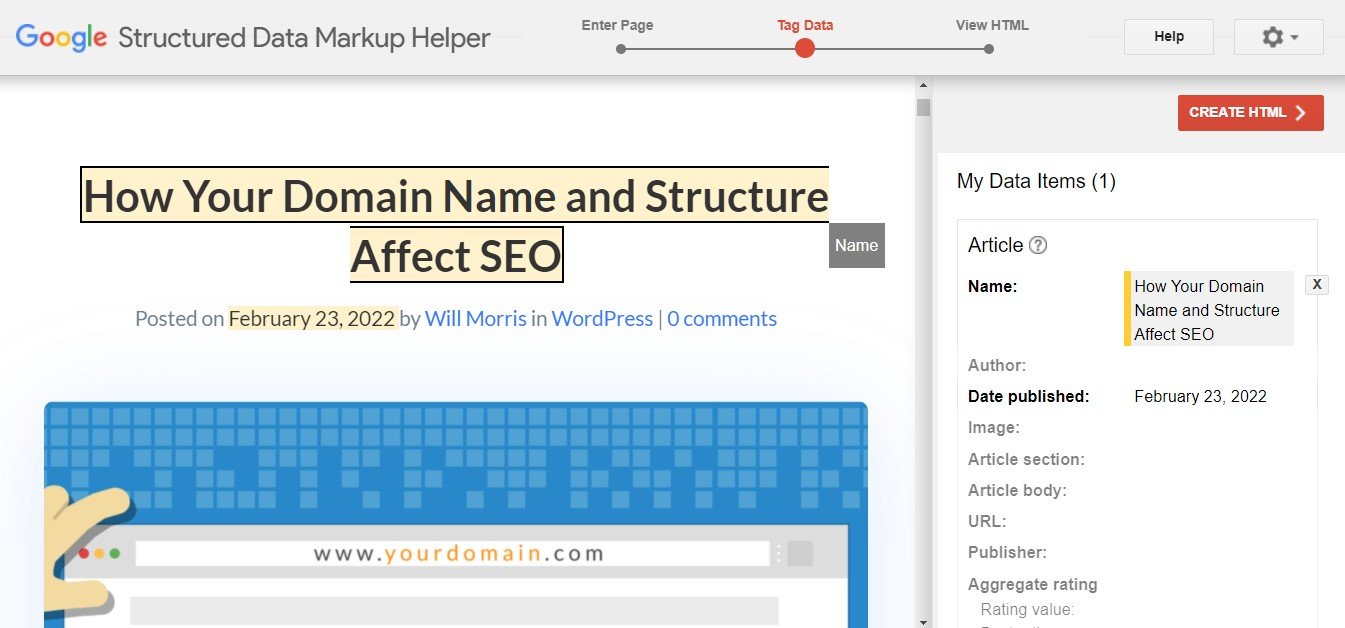 The program will generate the schema markup code based on your selections when you're ready. The Custom HTML block in the Gutenberg editor can then be used to insert this code into your post. This tool can only be used for live content, which is why schema markup is included in the post-publication SEO checklist.
2. Include internal hyperlinks
Internal links might lead visitors to other parts of your website that are relevant to them. These URLs can help you boost engagement and lower bounce rates. Internal links, on the other hand, can have an impact on your SEO. They make crawling and indexing your content easier for search engines, which improves your rankings. You can include internal links in your posts by using anchor text that represents the topic of the website you're linking to. Additionally, if you create new content, you may want to revisit older pieces and add links to your most recent articles.
This procedure may appear to be time-consuming. SEO tools like Yoast and Ahrefs can help you uncover linking opportunities, saving you a lot of time and work.
3. Refresh Your Content
Writing informative and high-quality content is critical for on-site SEO, as we previously stated. However, some posts will need to be updated after a while. Your previous entries, for example, may include outdated information or describe things or locations that no longer exist. For any given search query, Google strives to display the most relevant results. You may see a decline in rankings if the information in your postings is no longer valid.
As a result, it's critical to go back over your prior postings and delete anything that's no longer relevant. This step may entail locating new sources and figures, confirming the accuracy of your statements, and researching fresh developments in the subject areas. You should also look for broken links and grammatical problems in your postings. You may also include new sections to show viewers (and search engines) that your post has been updated recently.
What are on-site SEO services?
On-page SEO services are search engine optimization services that boost the visibility of your website in search results on Google, Bing, and other search engines. On-site SEO services often include keyword research, content production, header tag optimization, and other services.
Conclusion
On-page SEO focuses on improving your website's posts and pages. This process entails several steps, however, using a checklist can assist you in completing each one. As we've seen, the first step is to choose a major keyword and use it throughout your post, including the SEO title and meta description. You should also make sure that your material is educational, legible, and relevant to the search purpose. Consider adding internal links to related posts and optimizing your photographs with alt text.
Search engine optimization (SEO) is one of the most effective ways to drive targeted visitors to your website. You will generate qualified leads that you may nurture to conversion. When you invest in SEO, it's critical to apply on-page SEO improvements to ensure that your page runs well.
To avoid shattering your business into a million pieces, it's best to hire experts who can better optimize and promote your website. Hiring SEO experts will also provide reassurance that your online business is being properly represented. Contact us today and let us show you how our SEO services can benefit both you and your business. If you need help improving your on-page SEO, contact www.Mach1Design.com or call Harold @ (469) 536-8478. You can also email us at [email protected]