What you've heard is true: Account-based marketing is the gold standard for B2B marketing in 2022.
If you're not already going after specific, high-value accounts with personalized messaging, there's no way you're getting a competitive ROI from your marketing department. The biggest strength of ABM is the ability to unite your marketing and sales by providing them with always-on reporting technologies, letting your higher-ups spend much more time managing campaigns and closing deals, and less time sending emails. This makes it one of the most scalable, modern digital marketing tactics available to enterprise-level businesses in the B2B sector.
Imagine starting the sales process by selling straight to your best-fit, highest-value accounts. No more squandered time attempting to sell to unqualified leads who aren't a good fit for your company. That is, you might go right into engaging and pleasing your target accounts. Isn't that the definition of efficiency?
What is account based marketing?
Account-based marketing is a targeted approach to B2B marketing in which the marketing manager and sales teams collaborate to target and convert best-fit and customized accounts into customers. Marketers are always competing for the attention of potential clients in this age of information abundance. As a result, businesses that wish to maximize their ROI should concentrate their efforts on high accounts, taking account penetration, marketing penetration, and logos into account. To achieve their objectives, marketing teams must apply customized techniques that combine sales and marketing knowledge to discover, engage with, and complete agreements with high-value accounts that matter the most.
ABM also takes a broader view of marketing than just lead generation. One of the strategies for generating the most value from your largest accounts is to market to current client accounts to drive customized upselling and cross-selling. Account-based marketing is not a new concept, but it has recently seen a comeback as a result of increasing technology and shifting terrain. An ABM approach can assist teams in enhancing marketing ROI, driving attributed revenue, generating more conversions and quality leads, and linking sales and marketing. In general, B2B marketers and teams target leads more broadly to appeal to as many ideal firms and markets as possible, but this does not produce and engage the highest ROI. Because of the high level of personalization required, scaling the ABM program and platform was previously difficult and costly.
With today's free, new and growing technology, scaling ABM to a range of enterprises is now smarter, easier, and more inexpensive, and marketers across the board are using an ABM intelligence approach inside their team to generate higher value outcomes.
Why B2B companies are gravitating toward ABM?
ABM can be focused on either safeguarding and developing existing accounts, gaining new business from specified target accounts — or a combination of the two. This varies depending on the audience. For example, 1-2-1 ABM is often designated for big client groups with the goal of retention and expansion, but 1-2-few or 1-2-many ABM can entail a combination of acquisition, retention, and expansion goals. When compared to B2C, the B2B buying process is often carried out over a longer period and entails targeting a group of important decision-makers rather than a single individual. As a result, this group, or account-level, is critical.
Account based marketing strategies
To make a long story short, ABM strategies have been the leading way to create sales opportunities for over 10 years, and, as a result, the number of ABM platforms and technologies dedicated to the practice is on the rise. According to a 2014 ITSMA survey, ABM delivers the highest ROI of any other marketing strategy, and that was six years ago. More recently, Engagio found companies that utilize ABM often allocate the greatest portion of their budget to the strategy—around 29% on average. Marketing is a lot like investing: The smartest individuals put their money where it's bound to multiply, and that's why the best marketers in North America are putting all the money they can into ABM. 87% of account-based marketers report their ABM strategies significantly outperform their other marketing investments, so what's keeping your business from getting that same stellar return on investment?ABM strategies
The availability of technology that can provide precise data insights and a much clearer picture of B2B purchasers' intentions at various phases of the buying experience is the reason ABM has expanded greatly in 2021 and will continue into 2022. It also allows you to make better use of your current resources by focusing on a limited number of accounts that are most likely to convert. Because of the available technology, ABM can also be more exact and quantitative than previous approaches, resulting in clearer ROI and more efficiency in marketing and sales teams.
Benefits For Your Account

Account-based marketing is becoming increasingly common among B2B organizations focusing on larger accounts. Account-based marketing has various advantages over other marketing tactics for organizations looking to sell to large clients with extended sales cycles and large transaction sizes:
Personalized marketing strategy
Instead of taking a cookie-cutter approach, marketers generate tailored messages for target accounts by utilizing what they know about their clients and tailoring the creative assets of their campaigns to the customer's individual traits and wants.
Alignment of sales
Account-based marketing enables marketing and sales teams to collaborate by identifying target accounts, creating personalized campaigns for them and collaborating to align and advance individual accounts along the funnel, both before and after the lead conversion.
Sales cycles that are shorter
Multiple stakeholders are involved in major buying decisions. Because it begins at a lower level in the business and proceeds slowly toward the principal decision-maker, this often slows down the sales process. The length of the cycle is reduced with account-based marketing because all prospects are nurtured at the same time.
Increased ROI
Account-based marketing is precise and measurable, with the highest ROI of any B2B strategy. Account-based marketing, according to 85 percent of marketers that track ROI, outperforms all other marketing approaches.
Fewer resources used
Time and resources are devoted to a small number of accounts that are most likely to result in sales. This frees up resources that would otherwise be wasted.
The Framework
ABM differs from a standard sales funnel. Though ABM can be used in a variety of industries and business types, a common framework must be followed to ensure its efficacy. The following are the major elements of an account-based marketing framework.
Sales Coordination
The necessity of a working partnership between sales and marketing companies is underlined multiple times throughout this text. Marketing and sales must be on the same page to take a complete strategy to ABM and guarantee that target accounts have an engaging buying experience. When implementing ABM, sales and marketing teams must agree on resource allocation for each target account, assign roles and duties to guarantee a smooth transition for the client between marketing and sales operations, and decide how to measure the success of their efforts.
Account Eligibility

How does your organization identify what accounts are high-value? Developing an ideal customer profile for the accounts your firm wishes to target is a critical component of addressing this issue and developing an ABM strategy. It's also worth emphasizing that both marketing and sales should be involved in these discussions.
Getting Your B2B Team and Account On Board
Even though ABM makes a promise to increase ROI and reduce inter-departmental and organizations headaches, it will always take convincing to bring five, 10, or 25 people on board with a strategy they're unfamiliar with. Any time a new target account ABM strategy becomes popular, some of the most skeptical adopters will always be the ones who are doing just fine. As ABM requires participation from everyone—from sales to the C-suite—it will only be adopted if every level of employment and management understands exactly which pain points it's going to address and target for its business campaign.
Consider the following elements when determining what qualifies a potential account:
Financials: Consider how much revenue may be earned from an account in relation to your company's sales goals.
Scalability: Based on what you know about the potential account's business performance, do you believe the account has the potential to grow in the future? Consider what additional services your organization could offer to keep and develop the account.
Competitive Environment: To whom are your competitors selling? Understanding who is currently looking for products and services similar to yours might help you uncover potential account prospects.
Approach to the Market
Once marketing and sales have agreed on a strategy and which accounts to target, it's time to develop a go-to-market strategy. Determine how a new customer would progress through the sales process utilizing an ABM technique. While preparing to go to market, you may discover areas of friction that need to be addressed or areas of poor communication that need to be improved. Furthermore, because a tailored experience is so critical in account-based marketing, your team will want to seek extra methods to offer value and provide a premium experience to these accounts.
Account Based Marketing Tactics
Provided below are some of the account-based marketing tactics that might help: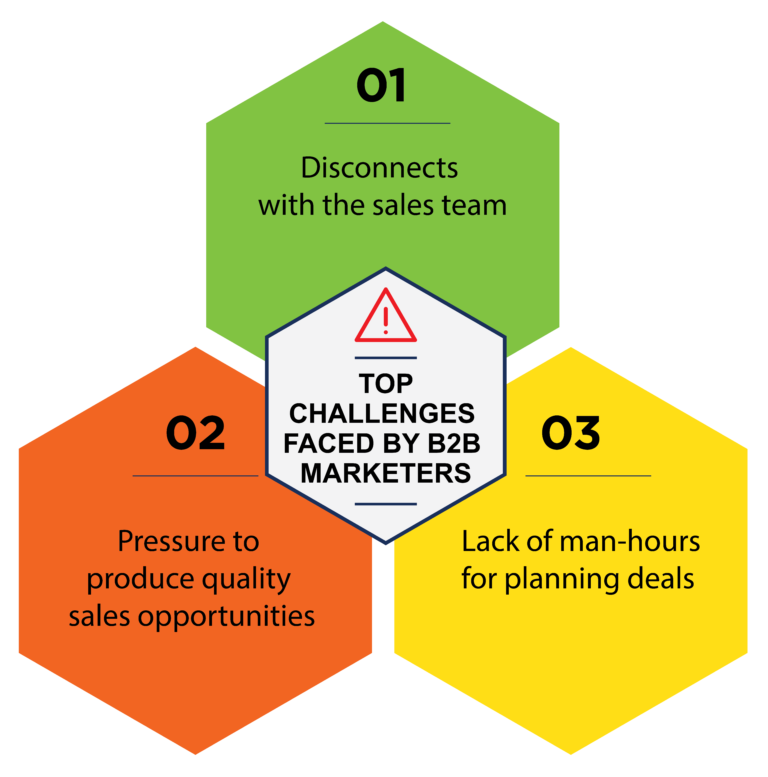 Disconnects with the sales team
One company, two different teams trying to achieve the same goal—ABM will unite their efforts inherently, by providing them with the same data in real-time.
Pressure to produce quality account marketing opportunities
Targeting leads who will never convert is a waste of time—ABM can pinpoint a smaller number of leads that are more likely to engage and concert.
Lack of man-hours for planning and marketing deals
There are only 24 hours in a day and anywhere between 40 to 50 hours in the workweek. ABM automatically pushes accounts down the funnel more rapidly, and it works at any time of day, without anyone on your sales or marketing team having to intervene.
Helpful Implementation Tips
A step-by-step method for implementing account-based marketing is provided below.
Step 1: Determine your high-value target accounts. These are the main accounts that have the most potential to contribute the most to your company's revenue.
Step 2: Investigate those accounts. Get a good understanding of their consumer needs and pain issues, as well as where they are in their customer journey.
Step 3: Create personalized marketing campaigns. Develop creative assets that will resonate with the target account using information gleaned from the research process to inform your plan.
Step 4: Execute your personalized marketing initiatives. Send your campaigns to the appropriate account.
Step 5: Track the effectiveness of your tailored marketing initiatives. Examine the data to discover how your campaigns are faring.
Based on Marketing and Personalization
Website customization is an essential component of ABM's strategy since it allows you to personalize the content and messaging on a website to each of your target accounts. The experience that visitors have once they land on your site may be modified through website personalization in the same way that offsite marketing efforts are individualized for each account. Web personalization for ABM is accomplished by identifying anonymous users to your site using firmographic data obtained through reverse IP lookup or first-party or third-party data. After identifying the visitor's firm, they can be matched against your target account list to give a customized web experience. Account-based personalization allows you to customize various aspects of a website, including as messaging, pictures, calls-to-action, and social proof.
Target B2B Marketing Woes
The first B2B challenge that can be solved by ABM is getting your sales and marketing teams on the same page. In many organizations, marketing and sales departments lack transparency—leaving room for wasted effort when targeting and chasing accounts.
The ABM model promotes synergy between marketing and sales divisions by having them link up at the start of the endeavor: Marketers work closely with sales professionals to target accounts, and then use their input to create a schedule of content syndication and engagement opportunities. Once it's time to close a sale, your sales team will have a history of client engagement that's detailed on a level they've probably never seen before, because it's pretty much impossible to provide without an ABM campaign up and running.
The second challenge confronted by business-facing enterprises is creating a steady pipeline of quality leads. For the most part, B2B models can't rely on most lead-generation marketing tactics because there isn't an audience large enough to make lead-gen-based spending a good return on investment. B2B companies often make 10 to 100 times less total revenue transactions than B2C companies do—and that's exactly why you should be 10 to 100 times more specific about who your marketing content reaches. Expect to see the same channels active— content marketing, paid search, SEO, and programmatic will all be big players used to move accounts through the sales funnel, but your scale (and thus your total spend) will always be scaled down to the smaller audience comprised of players qualified to do business with you.
The last challenge ABM can fix: is not having enough time. Time is money, and who knows how many marketers you're paying to source leads, create assets, manage to report, and make cold calls. With a switch to ABM, your brand new data stack will do plenty of these tasks for you, leaving your marketing team with fewer tasks to do per day, and your sales team completely focused on only one thing: closing deals. The ABM model promotes synergy between marketing and sales divisions by having them link up at the start.
Need Help with Account Based Marketing Program and Account-Based Marketing Strategy?
So you're interested in ABM, but where do you start? We suggest heading to our ROI Calculator to measure how much a modern ABM strategy would benefit your company. If you're impressed with that number, get in touch with our Mach 1 Design ABM team to learn more about the account-based marketing program and account-based marketing strategy right for you. Contact: [email protected] or call us at (469) 536-8478